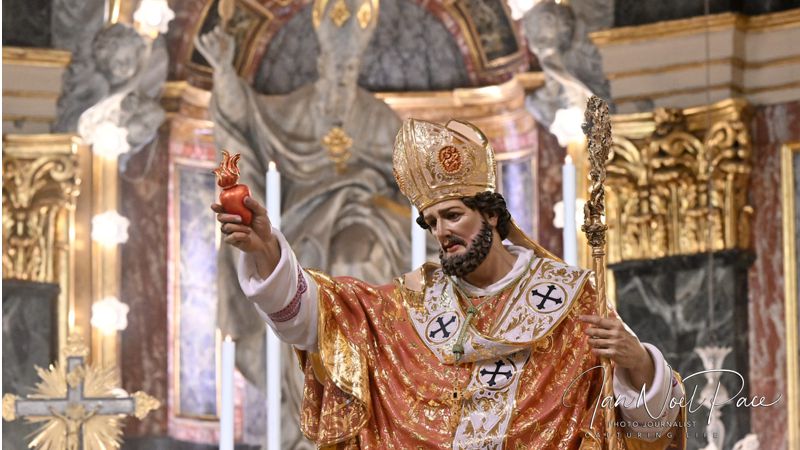 The Statue of Saint Augustine back in it's Parish Church
During a concert of Sacred Music featuring pieces from the archive of the Maltese Augustinian Province, on Tuesday 23rd August 2022, the Augustinian Community, together with the Parish Community welcomed back to the Church the now painted and gold gilded Titular Statue of Saint Augustine. During this last year, the statue was taken to be painted and gold gilded by the renouned artist Horace Farrugia of Mdina, who has great experience in this field. He worked with great care first on the plaster coating and etching  on the clothing of the beautiful figure of Saint Augustine. Following this process, it was than gilded with gold and painted according to designs created by the same Horace Farrugia. The face and hands were than finished by the original artists of the statue itself, Aaron and his father Alfred Camilleri Cauchi.
Aaron and Alfred Camilleri Cauchi had actually carved the statue in solid wood about five years ago and it was blessed in the year 2017. The statue depicts Saint Augustine wearing episcopal clothing with a flaming heart in his hands. The flaming heart is a symbol of the love for God and His Word which touched the heart of the young Augustine. In the lower part of the statue there is also an angel holding an open book in his hands with the phrase of the same Saint Augustine: Vulnerasti Cor Meum Verbo Tuo, which in english means, You pierced my heart with your Word.
The recent gilding and painting project was done with the collaboration of the National Arts Council. Thanks also to all those who in one way or another have been of help to the Augustinian community along this journey, particularly the members of the Fondazzjoni Soċjo-kulturali Ambjentali Augustina and the Għaqda Festa Santu Wistin. The Statue will be taken out of the Church in a procession on Sunday, September 18, as the Parish celebrates its Titular Feast. (photos by Ian Noel Pace)
---