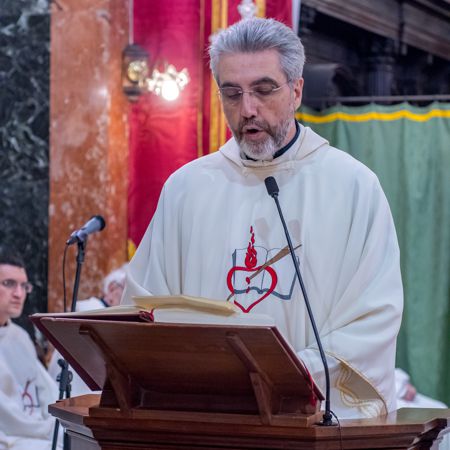 The Holy Father Pope Francis, has appointed our brother Fr. Luis Marín de San Martín, OSA as undersecretary of the Synod of Bishops, nominating him titular bishop of Suliana. Until now, Fr Luis Marín is one of the Assistants to the Prior General of the Order of Saint Augustine responsible for the South European region being Malta, Italy and Spain.
Bishop-elect Fr Luis Marín, was born on 21 August 1961 in Madrid, Spain. He made his first vows in the Order of Saint Augustine on 5 September 1982, and his solemn vows on 1 November 1985. He was than ordained a priest on 4 June 1988. He was awarded a doctorate in sacred theology at the Universidad Pontificia Comillas of Madrid. Along the years, he has held a number of responsibilities, including: formator at the formation house at Los Negrales (1996-1999); provincial counsellor (1999-2002); prior of the monastery of Santa María de La Vid (2002-2008); and professor of theology in the Augustianian Centres in Los Negrales, San Lorenzo de El Escorial and Valladolid. Since 2004 he has served as a visiting lecturer at the Facultad de Teología del Norte de España in Burgos. He is the archivist general of the Order, general assistant of the Augustinians and president of the Institutum Spiritualitatis Augustinianae.
Together with Fr Luis Marín de San Martín OSA, the holy father today nominated also Sr Nathalie Becquart Xaviere, a French national, both under secrateries of the Synod of Bishops assisting closely his Emm. Mario Grech in his role as Secretary of the Synod of Bishops.
The Prior Provincial together with the friars of the Province of Malta would like to express their gratitude to Fr Luis Marín de San Martín for his continuous support along the years and wish him every success in his new role at the service of the Universal Church.
---