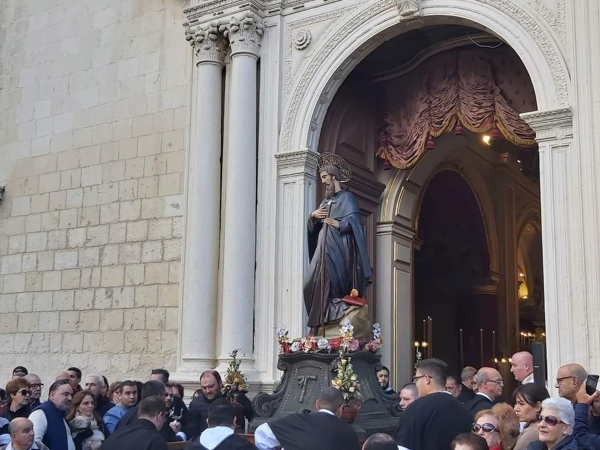 On Sunday January 15, the traditional Feast of St. Anthony the Abbot was celebrated in the Conventual Church of St. Mark in Rabat, with the rite of the blessing of the animals. A lot of people with their animals took part in the mass, the procession, and later the much awaited ceremony of the blessing of the animals in St Augustine Square in front of the church.
The celebration started with the mass presided over by the Prior Provincial Fr Leslie Gatt O.S.A., followed by a short procession with the statue of the saint. Back in square in front of the Church a prayer was led by the celebrant and than the first to be blessed were two horses of the Police cavalry. A good number of horses and donkeys followed. It was than the turn of the domestic animals particularly a large number of dogs, cats, birds and turtles. A few less frequent animals attracted particular attention, such as a snake, an owl and a calf.
The devotion to the saint in the Augustinian Church of Rabat actually goes back several centuries. Since the time of the Knights of St John, it has been a custom for the Grandmaster to send his animals to be blessed on the feast of St Anthony of Rabat. In 1806, the renowned artist Xandru Farrugia, carved the of Saint Anthony in wood.
The figure of Saint Anthony the Abbot has a connection with the Augustinian tradition. The life of Saint Anthony and his strong example encouraged Saint Augustine at a decisive moment in his life and helped him on his journey towards conversion. For many years the Augustinian friars were even called hermits and devotion to Saint Anthony was something very common in their churches.
---