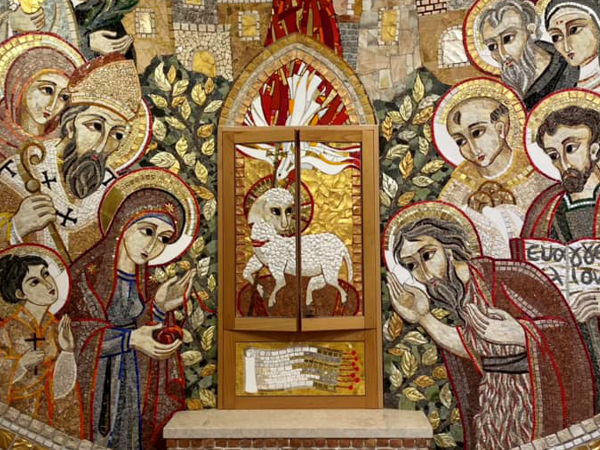 On Sunday 21st May, the eve of the feast of Saint Rita, the Rev. Provincial Fr. Leslie Gatt O.S.A. blessed and inaugurated the renovation works done on the adoration chapel annexed to the Church and Priory of Saint Augustine in Victoria Gozo. In the same celebration, the Holy Sacrament was brought by procession into the new chapel where it was placed for adoration.
The project was led by artist Rev. Fr. Roberto Gauci of the Eikon Liturgical Art Center together with the Augustinian friars of the Gozo Priory who followed the work on the same chapel. The Chapel is actually characterized by a central mosaic flanked by two icons on the side walls. The main idea behind the chapel is outlined in the mosaic, which shows the image of the book of Apocalypse, where the saints worship the slain and glorious Lamb - an image of Jesus Christ who took death upon himself, rose again, and entered glorious in the Father's kingdom.
At the same time, the central part which serves as the throne of the Lamb, opens up and becomes the tabernacle for Eucharistic adoration, because what we now worship as being present in the sacramental species, is the same one that the saints contemplate in heaven. The Eucharist makes us taste from now on this earth what we will then experience in the Kingdom of God in heaven. Around the Lamb, along with Mary and Saint John the Baptist, there are a number of Augustinian saints, together with Saint Augustine, Saint Monica and Saint Mark the Evangelist, who is patron of the Maltese Augustinian Province.
On each side of the Chapel there are also two icons linked to the Eucharist: the scene of Emmaus and the scene of the washing of the feet at the last supper. The work on the mosaic and the icons was all done by Rev. Fr. Roberto Gauci, whilst the woodwork was done by Mr. George Attard. Mr. Joseph Borg coordinated the works.
During the inaugural celebration, the Prior Provincial highlighted that this wonderful space is an invitation particularly for those who live close to the Priory and who are familiar with the Augustinian Community, to go and spend some time of adoration and prayer before Jesus in the Eucharist. The Chapel is open all day. It is thought that in the future this same chapel will also house the remains of the servant of God Fra Grazzja Gauci O.S.A.
---