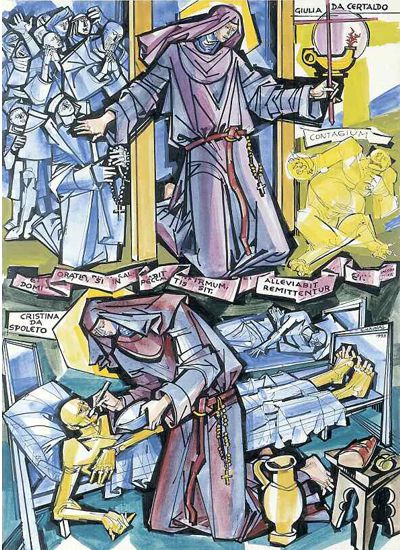 Blessed Giulia of Rena from Certaldo - 15th February
Gulia was born in Tuscany near Certaldo around 1320 in a noble family that became poor. She was orphaned at a young age and started working for a family at Tinolfi, near Florence where she came across the Augustinians and their holiness. When she was not even twenty years of age she joined the Augustinian laity. Later she felt a desire to lead a life without vanity and, in the prime of her youth, she chose to leave the town and to go to live on her own.
She returned to Certaldo and rented a room near the Augustinian church of St. Michael and St. James. In that room she opened two small windows, one that looked into the church so that she could be present at all the religious functions, and the other facing the outside area so that she could receive the food that the people used to bring to her. She hung a crucifix on one of the walls and she got a builder to brick up the door to her room.
She never left her "hermitage" and, like a prisoner, she lived for thirty years as a mystic and in prayer, cut off completely from the rest of the world. She used to make penance and to pray daily. The farmers from Certaldo used to provide her with food. According to what was said about her, even children used to take her something to eat and Gulia used to thank them and to give them fresh flowers in every season of the year. We know nothing further about her apart from the attraction towards her of those who lived in the area.
She died around 1370 and this attraction towards her grew after her death because in 1372 an altar was built in the same church where she lived and was buried. Until 1506 the people of Certaldo use to celebrate her feast because they considered her to be a saint. In 1819 Pope Pious VII confirmed her a blessed ab immmemorabili.
Tilde Giorgi
HERRERA A 377; TORELLI, L., OSA., Secoli Agostiniani  VI, Bologna 1680, 130-135; RISI, N., Un giglio tra le spine: la b. G. da C., Prato 1919; BELLANDI, S., OSA., Servitori Santi, Profili agiorafici per l'edificazione spirituale delle persone di servizio, Firenze 1927, 51-61; *GIACOMINI, A. M., OSA., Rena G. della, beata, in BS, XI, Roma 1969 (rist. 1990), c. 115-116.
---