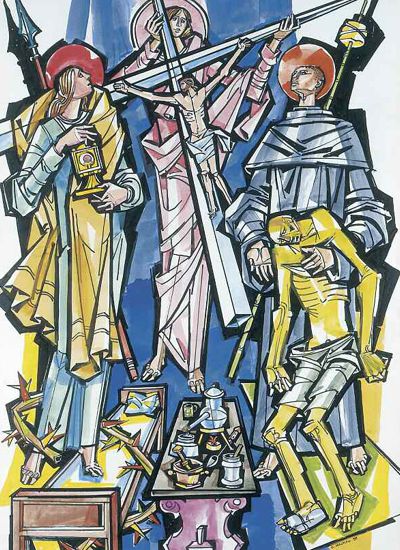 Blessed Christina from Aquila - 18th January
Christina was named Mattia Ciccarelli. She was the daughter of Domenico and Maria di Pericolo at Colle dei Lucoli (Aquila) and was born on 24 February 1480, the last of six children. From an early age she was full of the virtues of obedience, humility, serenity and she was totally dedicated to prayer to which she devoted the entire day in a corner of the family home in front of a picture of the Mother of Mercy.
Along with her prayers, she made severe fasts to the extent that she made herself ugly so that she would not be admired by anybody. At the age of 11 she got to know Blessed Vincent from Aquila who became her spiritual director and she revealed to him her desire to consecrate herself to the Lord by becoming a religious. In June 1505 she entered the monastery of St. Lucy of the Augustinians at Aquila, where she took her habit and the name Kristina.
She embraced daily her love, obedience and humility. These were sufficient proof for her to engender respect amongst all the other nuns who, after a short while, appointed her as their Mother Superior. When she became known for her holiness, the visions she used to have, and the miracles that she performed many, both poor and rich, used to visit her.
Amongst the periods of estacy with which she was endowed by God, the most noteworthy was that on the feast of Corpus Domini when she was elevated from the floor and a Host in a golden pyx appeared on her heart (which is the reason why this blessed person was thus painted) and another happened on Good Friday, and continued until Easter Saturday when, according to her own words, she suffered a good part of the Lord's Passion.
As she was of poor health, and she was ill at the time, she died on 18 January 1543.
When the monastery of St. Lucy was closed on 12 October 1908, her remains were taken to the monastery of St. Amico. Her cult, which shortly after her death was already well known, was confirmed in 1841 by Pope Gregory XVI.
Niccolò Del Re*
ANTINORI, A., Vita della b. C., Roma 1740; Sacra Rituum Congregazione. Aquilana super approbatione cultus praestiti B. Christinae a Lucolis, Romae 1839; CREMONA, C., La b. C. de l'Aquila, agostiniana, Roma 1943; DURANTE, M., A La stella di Lucoli. Breve vita della b. C. da Lucoli, l'Aquila 1943; *FALCIONI, D., OSA., C. da A., beata, in Enciclopedia Cattolica IV, Città del Vaticano 1950; CURTIS, C., OSA., Vita della B. C. da l'Aquila. L'operetta fu stampata a Colonia nel 1636, l'Aquila 1991; IS., Beatae Christianae vita. Testo latino-traduzione a fronte. A cura di Antonio Cordeschi, l'Aquila 1993.
*C. da L'Aquila., beata, in BS. IV, Roma 1964 (rist. 1987), c. 338-39.
---