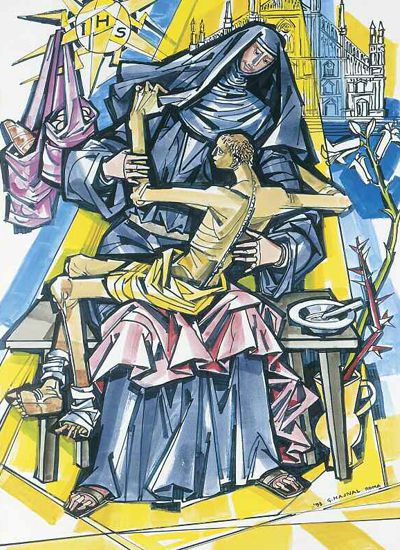 Blessed Veronica Negroni from Binasco - 13th January
What we know regarding Veronica is that she was born in 1445 in Binasco, in the province of Milan, within a family of farmers and that she was God fearing. However, her mother was so poor that she was unable to give her even a little schooling.
At 22 years of age "after many requests she managed to wear the habit of St. Augustine" as a lay member of the community at the monastery of Santa Marta, Milan where she remained for the rest of her life rendering the most humble of duties at the monastery and going out to beg for charity.
She was faithful to the life of those days and so she was under a monastic discipline although she was of poor health. She had a kindly heart, was very devout and she had the grace of prophecy. After she experienced an apparition she went to Rome where she was greeted by Pope Alexander VI. It is also said that she had the grace of reading one's soul. Many times her estacies were accompanied by tears; this was something which was brought about by the spirituality of those those times.
He contemplative life did not prevent her from being a beggar in Milan and its environs, not only to collect things essential for the convent, but also to help the poor and the sick. As such she is represented in an incision by János Hajnal shown here: at the very moment that she was taking care of one of the many poor people that in those days used to fill the street of the city. Her charity made her a great nun when she used to humble herself to help the miserable who used to cling to her habit.
Her collection bag was hung to Christ's own illumination of charity, the same light that used to enlighten Veronica's whole figure. From her own font, together with the thorn of penitence, there was also the lily of her innocence.
She died on 13 January 1487 after the people, for five whole days, went to bid her farewell as was the practice for saintly persons. Twenty years later, in 1517, Pope Leo X gave permission to the monastery of Santa Marta to celebrate her liturgical feast. In 1672 Pope Clement X extended this permission to all Augustinians.
In Napoleon's time of upheaval, her remains were taken to the parish church of Binasco.
Fernando Rojo, o.s.a.
Acta SS. Ianuarii, I, Venetiis 1734, 887-929 (risposta la "Vita" di Isidoro de Isolano scritta nel 1518); FONT, J., OSA., Vida milagrosa de la extática, y seráfica virgen santa V. de B., hija del convento de Santa Martha, Palma de Mallorca 1692; MOIRAGHI, P., La b. V. de B., Pavia 1897 (rist. 1917); SABA, A., Federico Borromeo e i mistiċi del suo tempo, Firenze 1933, 8-11; RIMOLDI, A., V. da B., beata, in BS., XII, Roma 1969, (rist. 1990), c. 1050; GUTIERREZ, D., OSA., 1/2, 255-256, 260-262 (it. 382-85, 391-94). VASCONI, R., I giorni di V., Torino 1983.
---