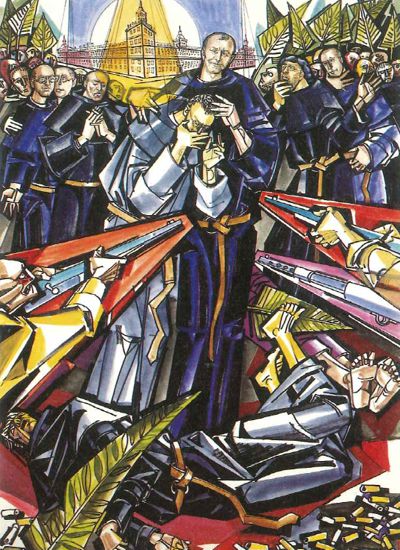 Blessed Avelino Rodriguez and Companions - 8th November
Towards the end of the thirties of the XX century Spain went through a turbulent period of great political upheavals. The so-called "Spanish Civil War" were bloody years when hatred towards co-nationals resulted in the death of thousands of Spanish citizens. The Church found itself in the midst of this turmoil and, notwithstanding its traditions of being a secular presence on Spanish soil, with a great number of saints who bore evidence of the Church's commitment not only of holiness but also a commitment towards emancipation of society, her enemies were intent on a great persecution of her members. This persecution resulted in thousands being killed, shedding their blood instead of denying their faith in Christ the King and their ties with his Church. Many were the religious and priests murdered because they were ministers of the Church.
Amongst these we find a large group of Augustinians from various Spanish provinces that evidenced their faith in Christ with the shedding of their blood after a period in prison. On 28 October 2007, 98 Augustinian religious who had suffered martyrdom were beatified; 65 were from the monastery of El Escorial (Madrid), 10 religious from Uclés (Cuenca), 10 from Caudete (Albacete), 9 from Gijon and Santander, 4 from Málaga.    
These included Avelino Rodriguez, who was born in Santiago de Millas, León in 1879. He joined the Madrid Augustinian Province and made his novitiate at the monastery of El Escorial. At the time of the persecution he occupied the post of Prior Provincial. The persecutors grabbed him and took him to La Modelo where he refused to be released unless his other religious colleagues were also set free. After a period of imprisonment, he was taken to Paracuellos where he was killed by a firing squad together with another 11 other Augustinians.
Another member of this numerous group of martyrs was Fr. Rodrigo Sabino, a religious who, going back to 1896, was a natural science graduate and professor at the university college of El Escorial. On 22 July1936 he was arrested by the military and taken to the prison of San Antón together with Prior Provincial Rodriguez who gave him the last sacraments. When he was murdered for his faith he was 61 years of age.      
Together with this great number of Augustinians, there were others some of whom of a tender and young age, becasue they were still doing their period of formation, and students of philosophy and theology. The persecutor did not heed their age or condition, but was blinded by hatred and anti-Christian sentiments which made him feel satisfied only when he saw striken bodies strewn on the ground in pools of blood after being shot by a firing squad.
The spiritual legacy of these martyrs of the XX century is great, and for today's Christians, a little short of one hundred years later, they are a constant call for fidelity towards the Christian vocations to which we are all called.
---