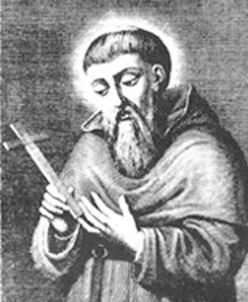 Blessed Sante from Cori - 5th October
We have only sparse information on B.Sante and, as often happens, history is mixed up with legends. The source of information concerning him are the funeral elogies made by Fr. Ambrogio Massari from Cori (elected Prior General in 1476) who came from the same city as Blessed Sante and who wrote about various episodes of the Order's history. More information concerning him are found in the Historia Corana written in 1637 by Sante Laurienti, a distant relative who lived at the same time as B.Sante.
Blessed Sante was born around the year 1339. Some historians recorded much later some information regarding his family, mentioning his family name as being Laurienti, descendants of the poet Virginio Laurienti, a contemporary of Dante Alighieri. From early childhood he showed an inclination towards service and prayer. It appears that his character attracted those who accompanied him. He entered the Augustinian convent at Cori. Where he studied and up to what grade is unknown, but Ambrogio Massari stated that B.Sante excelled in preaching, fruit of his great devotion topwards God's Word. As proof of the quality of his preaching, it is said that frequently the churches were not large enough to accommodate the masses of people who used to go to hear his sermons. That was the time of famous preachers in Central Italy who used to draw to them great crowds in the squares and directed those present towards penance.
He died in 1392 and his remains were buried in the church of St. Augustine at Cori. Over time it appears that his remains were lost. Nonetheless, the devotion towards him and prayers for his intercession always persisted, more so in the localities with which he was connected in the region of Lazio, Italy. In 1640 his painting over the main altar was dedicated in his memory. This was followed by Pope Leo XIII in 1888 confirming the cult of B.Sante and his name was added to the list of Blessed.
A zealous Augustinian priest who, by his example, is a model for all other priests; the continuous spreading of the Word of God through zealous and well prepared sermons.
 Fr. Josef Sciberras osa
---