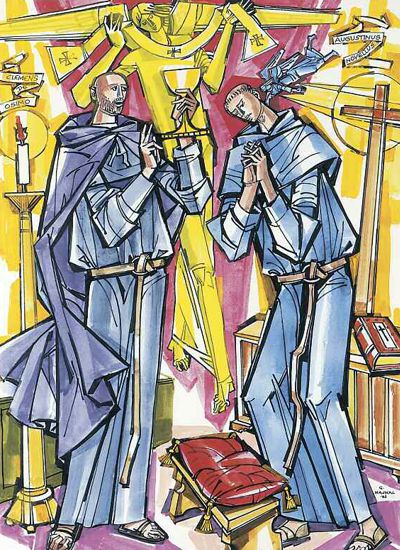 Blessed Clement from Osimo - 19th May
Today we honor the memory of two friars who were associated by their work for the good of the Augustinian Order at its origins, but also by their love for the interior life of prayer and contemplation. They both served the Order as Prior General and were instrumental in directing and stabilizing the Order shortly after its birth. At the same time, they excelled in the virtue of humility and were held in high regard by their confreres for their holiness.
Clement  was born at the very beginning of the 13th Century in the Italian region known as The Marches of Ancona. As a youth he joined the Hermits of Brettino, one of the congregations which later came to form the Order of Saint Augustine in 1256. Subsequent to the Grand Union he was elected Prior Provincial in 1269 and Prior General in 1271, distinguished for his spirit of fraternal charity, poverty and patience. He resigned from the generalate in 1274 to live a more contemplative life. In 1284, however, we was unanimously elected Prior General once again, and was re-elected twice more thereafter. He strongly promoted studies among the friars, insisted on religious observance, called for the provision of libraries and archives in monasteries and founded convents of Augustinian Nuns. Clement died on April 8, 1291. His remains are preserved in the chapel of the Order's General Curia in Rome. His cult was confirmed by Pope Clement XIII in 1759.
These two friars whose lives are linked closely by history, share in common not only their religious profession and the office of Prior General, but also the mark of sanctity. Both were drawn by temperament to a love for  the contemplative life, but were equally engaged in many and important works for the good of the Order in its formative years.
---