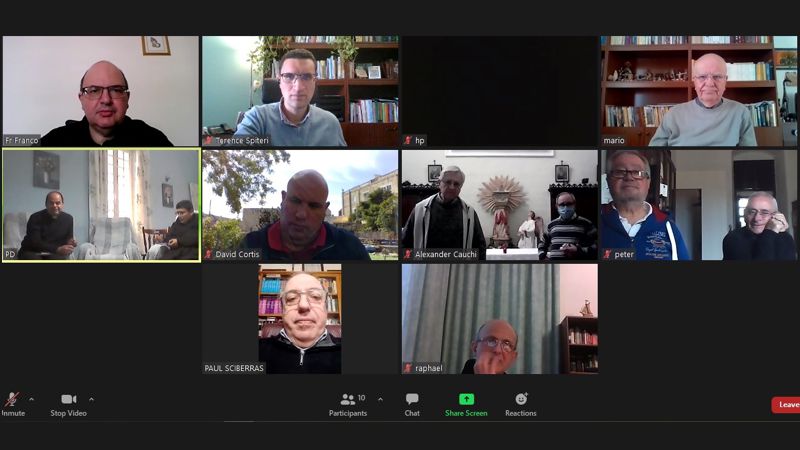 With Jesus Christ in the desert...online moment of reflection
On Friday, 19 March, the Augustinian Friars gathered together virtually for an online moment of reflection during this Lenten period by Rev. Dr. Paul Sciberras, Head of the Department of Sacred Scripture of the Faculty of Theology of the University of Malta.
The meeting commenced with reflections and prayers led by Fr. Mario Abela OSA, a member of the Province's Permanent Formation Team. Fr. Mario spoke on the importance of the need for us to stand away from the normal routine of life, so that we enter into our inner selves in the same way that, after all, we are invited to do by the Lord during this Lenten period. Then he introduced the speaker.
The theme of Fr. Sciberras' conference was: With Jesus Christ in the desert. Like Jesus let us let the Spirit take us to the spiritual desert to enable us to seek our identity and to wait for God to respond to us. Tempted, as Jesus himself was, when like Him we are imbued by the Spirit, like him we will emerge from our trials like God's children.
Temptation in itself is to deny God Himself … he who is the son of God. The temptation of God's people in the desert was intended for him not to remain God's community. A temptation to create disintegration. The same can happen with religious communities. Every member of the community should play his part so that this will not happen; by each and every one seeking to wear the garment of humility which means that everybody realises that he is liable to make mistakes; realises that we are all responsible for one another; by pulling the same rope all together towards one end; and, above all that, each and every one prays to the Holy Spirit in such instances. This because the Holy Spirit is the pivot of the unity of the Blessed Trinity.
The Augustinian Fathers thanked Fr. Paul Sciberras who was an instrument in God's hands during this Lent, to help them emerge from the desert with Jesus Christ and, full of the Spirit, from the temptation they may experience, so as always to emerge even more as God's children.
---