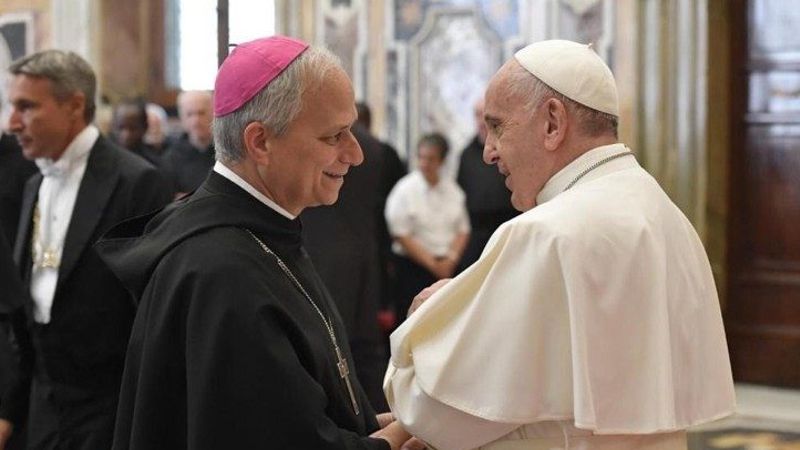 Augustinian Bishop to head Dicastery for Bishops
In a short ceremony held in the Office of the Decastery of Bishops in the Vatican City, on Wednesday 12 April, Mons. Robert Prevost made the profession of faith and began his work as the new prefect of the Decastery of Bishops. Bishop Prevost, who is an Augustinian missionary and who was was serving as Bishop of Chiclayo in Peru, is replacing Cardinal Marc Ouellet, both as prefect and as president of the Pontifical Commission for Latin America.
Robert Francis Prevost, 67, was born in Chicago, Illinois, U.S., on 14 September 1955. He entered the novitiate of the Order of Saint Augustine in 1977, in the province of Our Lady of Good Counsel in St. Louis, and made his solemn vows on 29 August 1981. At age 27, he was sent to Rome to study Canon Law at the Pontifical University of Saint Thomas Aquinas. He was ordained priest on 19 June 1982. He received his Licentiate in 1984, then was sent to work in the mission in Chulucanas, Piura, Peru, In 1987 he received his doctorate with the thesis, "The Role of the Local Prior of the Order of St. Augustine." After working for almost two years in the vocations ministry, in 1988 he was sent to the mission of Trujillo as director of the common formation project for Augustinian aspirants from the Vicariates of Chulucanas, Iquitos, and Apurímac. There he served as prior, formator, and lecturer. In the Archdiocese of Trujillo, he was judicial vicar, and professor of Canon Law, Patristics, and Morals in the San Carlos e San Marcelo Major Seminary.
In 1999 he was elected prior provincial of the "Mother of Good Counsel" Province. After two and a half years, the Ordinary General Chapter elected him prior general, a ministry the Order entrusted to him again at the 2007 Ordinary General Chapter. As Prior General, he visited Malta various times both on official canonacal visitations and on various other occasions.  
In October 2013 he returned to his province teaching the professed candidates and serving as vicar provincial; positions he held until Pope Francis appointed him apostolic administrator of the Diocese of Chiclayo, Peru, on 3 November 2014, elevating him to the episcopal dignity of titular bishop of the Diocese of Sufar. He became than bishop of Chiclayo on 26 September 2015. He has served as second vice president of the Peruvian Bishops' Conference since March 2018. Pope Francis appointed him a member of the Congregation for the Clergy in 2019 and a member of the Congregation for Bishops in 2020.
---