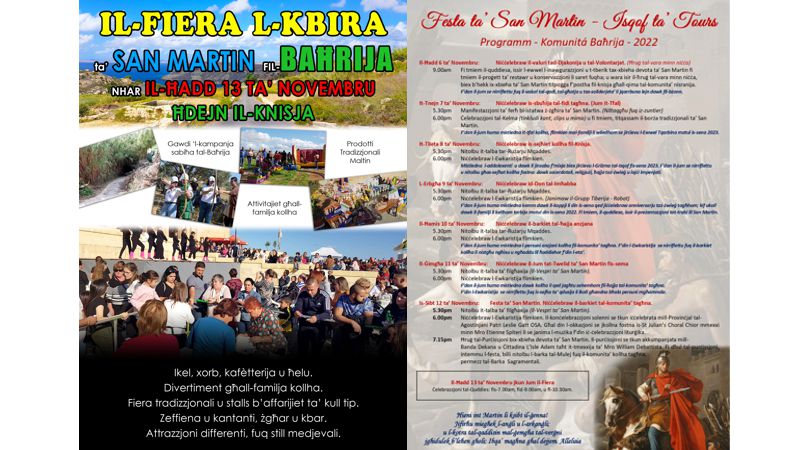 Feast of St Martin in Baħrija
At the beginning of the year 2014, the Maltese Augustinian Province in compliance with what had been unanimously agreed in the Ordinary Provincial chapter 2014, had held discussions with Mons Archbishop (at that time Mons Paul Cremona) and with the Curia of the Archdiocese in which the Province showed the desire to start serving pastorally in some new reality of the Diocese. Eventually, the agreement was in fact made quite quickly and in a few months, so much so that on December 6, 2014, His Excellency Mons Charles J. Scicluna - at that time Apostolic Administrator sede vacante - (today the Archbishop of Malta) had issued the Decree in which he was "entrusting the pastoral care of the Church of St. Martin, Baħrija and the surrounding areas which are in the territory of the Parish of St. Paul , Victoria, in the hands of the Reverend Father Provincial pro tempore of the Augustinian Friars and his delegates, ad nutum Ordinarii loci."
Fr Ray Francalanza osa - at that time Provincial - had begun his work as the first Rector on behalf of the Province on 1 January 2015. In the last two Provincial Chapters, Fr Ray was confirmed again to continue serving in this ministry. This means that as Augustinian religious we have already been serving pastorally in this locality for eight years. The population in Baħrija today has grown considerably and exceeded 2700 people spread over 560 families. Many young couples have come to live in it and this makes the place a fairly young community. During these years, great work has been done on every level to build a beautiful community both on a faith level and also on a social level. A great gift in Baħrija is the living commitment of many people who serve and give with a lot of love and generosity for the good of the whole community. Those who wish to get a taste of life in the Baħrija community, can use the fb page - Knisja Baħrija page.
---