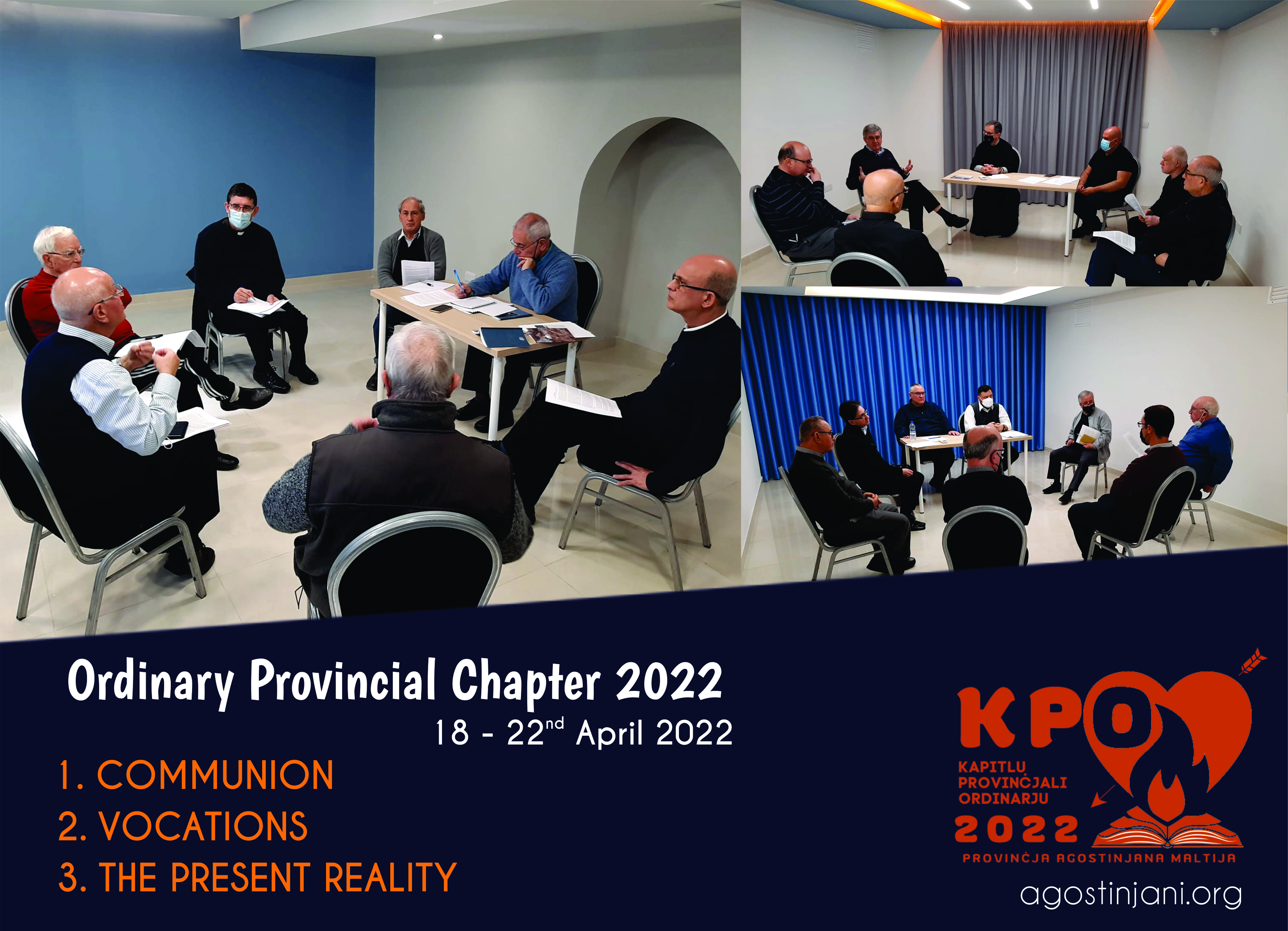 The Celebration of the second part of the Ordinary Provincial Chapter 2022
Between the 18th and 22nd April, the Augustinian friars are meeting at The Santa Rita Priory to celebrate the second part of the Ordinary Provincial Chapter which is being presided by the Prior General, Fr. Alejandro Moral Anton O.S.A.
This second part started with the celebration of the Eucharist presided by the Prior General himself for the repose of all deceased members of the Province, especially those who passed to eternal rest during the past four years. These were Fr. Felix Buttigieg; Fr. Joe Farrugia; Fr. Rikkardu Attard; Cardinal Prospero Grech and Fr. Saver Mifsud.
Thereafter, during the first session, the Prior Provincial presented a forward-looking programme setting out three priorities for evaluation and discussion by the friars during this Chapter and the forthcoming four years: 1) Communion as a constant challenge for the friars and a much-needed witnesses for the Church; 2) Vocations as a precious gift for each and everyone and a proposal that should be made to all who are still seeking in life; and 3) The indispensable consideration of the Province's Present Reality with the challenge of assessing and rationalising the energies, without diminishing the beauty of all opportunities for evangelization possible for the Province.
During these days discussions will continue on these priorities and other proposals that were put forward for consideration by the working groups and for discussion by the Assembly. Then, on Friday morning the voting session will be held and decisions will be taken on the proposals that will have been put forward.
The Ordinary Provincial Chapter will conclude with the reading and approval of the Acts and the celebration of Mass which will be held at the Augustinian Church dedicated to the Mother of Good Counsel, Paceville on Friday 22 April 2022 at 6.45 p.m. This closing Mass is open to all those who support or feel close to the Augustinian friars, particularly those who collaborate with them in various fields. After the Mass light refreshments will be served on the convent's parvis. (Anyone interested in attending can may make use, of the parking facilities at the Merkanti Car Park of the Westin Dragonara Hotel free of charge)
---