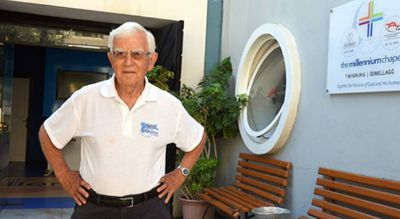 I miss you all
Dear All ,
 I ' m thinking of you all to day- first Friday of the Month when we adore and pray together the Taize' adoration and afterwards  we go out and share together a meal at a nearby restaurant.  We should have been in Gozo now for the annual Live in!!
I miss  all Welcomers who regularly come to sit at the desk and help all who come with grace and gentleness.  I miss all members of NA, AA and other groups who regularly meet at the Chapel.
 I miss the students who come from all Schools- those young beautiful faces who come for the WOW Xperience and  make feel young again!
 I miss the Saturday evening mass and familiar faces.  I miss particularly the 11.30 with all the congregaation singing "Here I am Lord" and the rest of the Mass and the shaking of hands at the door of the Church after Mass.  I miss it all as I miss my football!!
The only thing, and I am proud of it, we kept going is the food we are distributing to needy families, as they need it now more than ever. Thank you Ivana, Catherine and David and who else is working on it.
Now we all appreciate the value of friendship and community spirit.  We all miss it and hope it will soon come back and revive it even stronger after we have learnt so many lessons from this virus!!
I appeal to you to keep yourself busy as I am trying to do :
Keep calm and say thank you to the Lord every morning for another day of life.
Organize yourself and keep a routine to follow. Don't remain in bed in the morning because you have nothing to do but keep your usual way of living!
Shower , put your make up or shave as usual! Keep yourself clean and smart!
Make some form of exercise. I miss swimming but now I walk for half an hour on the roof everyday! (Bhal hmar tas-sinja!!)
I play the piano and read a lot while hearing Bach and beautiful music. Look for them in You Tube  Rieu, Hauser and so many others !
 Beauty saves the world!!
Keep in touch with your beloved ones and friends through social media – you know how more than me!!
If you remember of an old friend whom you hav'nt seen for many years , contact him/her and find out how he/she is!!
When was the last time you opened the Scriptures? Start with the Gospel of Mark and see how beautiful!
Arrange your old cupboards and files and get rid of what you don't need any more!
Keep yourelf busy in the kitchen by preparing good meals and have a glass of wine afterwards. A nap – short and not too long will help too.
Follow the Mass and/or the Rosary on TV.
Don't go out unless it's aboslutely necessary and follow all Health Authorities' directives
Be sure that this is not to end next week. We are stuck in for long weeks and months  and we have to do without football and all we loved to do before! 
But as during the War we suffered in patience the bombs coming down upon us from the shelters so we have to do now until it's all over – and overcome it!! We will overcome it as God is with us and will not abandon us!!
At the end of each day say "Thank you" again to the Lord for another day of living and celebrate with a shot of whiskey to fight the virus!!!
Keep Safe!
God Bless You
---